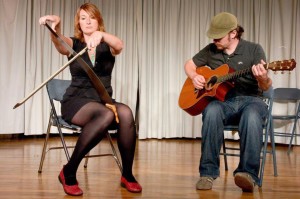 Junktape Studios would like to thank Faithful Sinners for visiting our studios. We drank whiskey and wine and captured four of their creations. Faithful Sinners is a band that truly highlights the spirit of Pittsburgh.  Keep an eye out for this group they are truly a sight to be seen.
They are described as a "musical saw guitar fun time extravaganza" . Currently there are two faithful sinners, Erika and Xander who started writing music together in 2011 after a successful collaboration at the NYC Musical Saw Festival. They have opened for such bands as "Pearl and the Beard" and "He's My Brother and She's my Sister", being featured in the literary variety show "Speaking Of…" at the New Hazlett Theater, playing the 21 Plus night at the Carnegie Science Center, and being spotlighted on Saturday Light Brigade radio show recorded at The Children's Museum of Pittsburgh. They were also awarded the best song award for "Something We Don't" during Pittsburgh's 48 Hour Music Video Competition.
Click below to take a listen.

Silver Linings
Audio clip: Adobe Flash Player (version 9 or above) is required to play this audio clip. Download the latest version here. You also need to have JavaScript enabled in your browser.

Rose Garden
Audio clip: Adobe Flash Player (version 9 or above) is required to play this audio clip. Download the latest version here. You also need to have JavaScript enabled in your browser.

To learn more check out their website www.faithfulsinners.com